GENERAL INFORMATION
PROGRAMME: A DIGItal toolkit for promoting gender EQUALITY in science and technology
ACRONYM: DIGI4EQUALITY
PROJECT NUMBER: 2020-1-PL01-KA201-081630
DURATION: 01-10-2020 to 31-09-2022

This project has been funded with support from the European Commission.
This publication reflects the views only of the author, and the Commission cannot be held responsible for any use which may be made of the information contained therein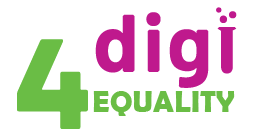 PROGRAMME: A DIGItal toolkit for promoting gender EQUALITY in science and technology
ACRONYM: DIGI4EQUALITY
PROJECT NUMBER: 2020-1-PL01-KA201-081630
Context/background of project:
According to the European Commission report "Gender Equality Strategy: Striving for a Union of equality" released on 5 March 2020, the President of the European Commission,
Ursula von der Leyen, said: "Gender equality is a core principle of the European Union, but it is not yet a reality. … Using only half of the population, half of the ideas or half of the
energy is not good enough."
Moreover, gender equality is not only a matter of concern for women. It is a matter of concern for all of us. Several pieces of evidence highlight the importance of building positive
attitudes towards gender equality.
Objectives of  project:
The aim of DIGI4EQUALITY (A DIGItal toolkit for promoting gender EQUALITY in science and technology) project is concerned with developing a novel toolbox by which professionals
can attract, reach out and assist students to raise awareness and tackle gender stereotypes in society and in occupational choices in a digitalised world. To achieve this aim, the
DIGI4EQUALITY project will have these objectives:
to highlight the important role of women in science and technology

to ensure a gender-transformative environment for girls and boys to overcome gender stereotypes with regard to roles of women and men at work and in society

to encourage both girls and boys to make career choices in a digitalised world

to raise awareness of teachers on gender equality which affect their interactions with boys and girls

to strengthen educational skills in coping with gender equality
Description of the results:
A methodological guide to promote gender equality in STEM in schools taking into consideration the impact of the recent socio-economic changes brought by the rapid spread of




digital technology in the world and the need for integration of women in STEM and society.

A cooperative educational card game as a tool to gender equality treatment. The card game will present at least 50 female role-models in STEM. Some of the cards will be




complemented with Augmented Reality content.

A guide on how to play the game will be developed.

A digital interactive book presenting women who made an impact in STEM to educate students about the ingenuity and contributions of women, and encourage an interest in STEM




careers. Stories about women who broke through barriers of gender and race in pursuit of their dreams, goals, and interests will be presented and will be complemented with




Augmented Reality content. Game-based training activities will also be included to intrigue students and get them involved.

A video selection to encourage girls in STEM and to fight gender inequality.

Development of the e-learning platform in which all the created material will be included. It will be a valuable resource for teachers to achieve gender equality and girls' empowerment




not only in STEM education but also in society. The possibility of enriching the platform with more material created after the project completion will be open.
Szkola Podstawowa nr 2 w Proszowicach- Poland
E-SCHOOL EDUCATIONAL GROUP – Greece

AYDIN IL MILLI EGITIM MUDURLUGU – Turkey

Adazu vidusskola – Latvia